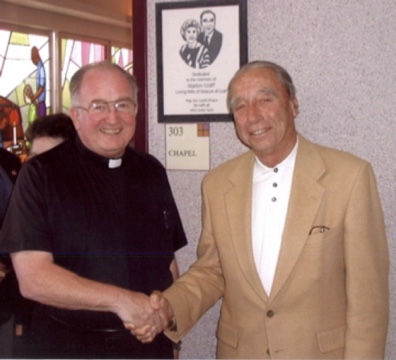 Prologue: As you know, Deacon Al Graff fell and broke his hip on Friday, January 6th. He was taken to Scripps Memorial Hospital where his hip was surgically repaired the next day. He was in the hospital until Saturday, January 14th when he was discharged to Torrey Pines Rehabilitation Hospital. Full disclosure: Deacon Al is my father in law. He has lived with my wife (his daughter) Nancy since 2001. Many people love him and wish to be included in his progress. I've created this page to ensure everyone is kept up to date. By the way he is pictured with Fr. Joe Carroll (1941-2021) in 2006. Al is a regular donor to Fr. Joe's Village.
May 19, 2023 Different day, same news. Yesterday I saw him in late afternoon and he wasn't sure what happened or where he was. I had to explain about breaking his hip, trying to do rehab, and being in the nursing home. That happens sometimes and it's hard to find the source. I doubt that it's long term confusion because it changes day to day. Today I went in early and he had finished breakfast. I read a few articles to him from the newspaper and we had discussions about them. I suspect when he's having a difficult day it's just the good day/bad day that we all have. I also suspect it's a lack of stimulation. He's been getting communion daily since he's been there but one of the people who often comes has been out with a knee replacement. That means he probably gets communion four days out of seven; that's still pretty good and the guy with the new knee is started back. If I have news I'll report it. If I don't have news I'll still report it, but not as often.
May 10, 2023 Yes, this is officially a roller coaster. My post from a few days ago made it sound like Al was on his way out and frankly that's what I thought. But yesterday and today he looked like he looked when Nancy and I went out of town. Today I got there early so he could watch the livestream of the daily mass and then play bridge. He woke up when I arrived and tracked with the conversation. His hearing has improved some which tells me that they are putting drops in his ears. They still need to remove the wax and I'm getting some pushback from the nursing home on doing that. I'll need to be a little more enthusiastic in my advocating for that. Nancy saw him later in the afternoon and he was tired after bridge but nothing unexpected. We'll keep everyone posted.
May 8, 2023 Nancy and I were out of town last week and didn't update this page. We've been back a few days and it appears Deacon Al is declining. In the last few days I've noticed he's harder to wake him up and he doesn't always appear to know what we are talking about. When we left we noticed his hearing was worse but was not surprising: he often has wax buildup and I used to take him to the doctor to have his ears cleaned. They didn't and it makes it much, much more difficult for him to understand us. This apparent decline may be nothing more than him not having as much stimulation. On the other hand it may be a sign that we're getting closer. I'm hoping to get his ears cleaned out in the next day or so and that will give us more information on his condition.
April 23, 2023 Today I was able to meet with the hospice team and the nursing home staff and it was a good meeting. Al is still bedbound and is only able be up in his wheelchair for an hour or so. But someone (and I don't know who) suggested last week that he might be able to walk again. I don't think that's realistic but I also don't want to squash his hopes. So starting tomorrow I'm going to encourage him to spend more time in a wheelchair and build his strength. I'm not sure which way this will go but it will give him the information he needs.
April 19, 2023 Alas, this was one of those days. Because of outside reasons Al wasn't able to tune into the school mass this morning and the bridge group didn't meet. I often worry that Al's limitations mean that his days are boring; at least they would be for me. He's never been someone to watch TV all day and he's really no longer able to read as much as he did (his concentration has diminished). But I suspect that's more my issue than his. We've gotten into a pattern of reading to him and that seems to perk him up. Each day we bring in the current issue of the Los Angeles Times and read articles from that. He still gets subscriptions to Time, St. Anthony's Messenger and the Catholic newspaper. He's currently an expert on the flooding in the Central Valley and the snowpack in the mountains. The sacramental support from his church also continues to be a high point of his day. If you visit Al, feel free to read to him.
April 13, 2023 This week after Easter has been a good one. It's hard to notice from day to day but I think Al continues to weaken slowly. In good news he was able to play bridge this week and was up for a few hours in the wheelchair. He felt it the next day and slept more but it was worth it. He also continues to benefit from daily visits and Communion from his church. The hospice chaplain showed up the other day but I was there with three parishioners. I'm not certain he needs the chaplain's services but at this point he's not turning anyone away. We continue to be pleased with both the facility and the hospice.
April 9, 2023 Happy Easter everyone! Al continues his long, slow decline and the days continue to appear to run into each other. Al continues to enjoy daily visits from his church and he cherishes the fact that he gets communion every day. On Good Friday his church commemorated the Stations of the Cross and after that he received a wonderful visit. St. James benefits from 4 deacons and the other three are still active in ministry. Deacons Michael, Peter, and Bill all came at the same time. Al has been a deacon since 1983 and that's been a blessing for both him and the parish. He was told that at 104 he's the oldest living deacon in the United States. I don't know if that's true but it's nice to think about. In the last few weeks he's been able to view Wednesday morning mass via livestream and then enjoy a round of bridge with his friends. His energy level goes up and down but when he gets into the wheelchair he can often stay there for an hour before he needs to get back into bed. Unfortunately that means he really can't leave the facility and he wasn't able to attend our annual family Easter brunch. But his spirits remain high and he loves getting visitors.
March 31, 2023 I just realized to my embarrassment that it's been six days since I've added to this blog. Not much has changed but I know that unless I keep this up to date that readership will drop off. That said there's not much new to report. I've spoken about his bridge group on Wednesdays and they were able to meet on Wednesday morning in the nursing home dining room. His mind is still sharp enough to keep up with the game but he declined to play because it's getting harder to hold the cards in his hand. It's a production to get him dressed and in his wheelchair but it's a good indication of his strength. Wednesday was a banner day as he was able to participate for about two hours. Some days he's only good for about 20 minutes; I think part of it was his enjoyment of the game but it was nice to see. Of course on Thursday we got him up for breakfast and he was only good for 20 minutes. Reading to him continues to be the best way to pass the time; of course he loves to talk to visitors but since Nancy and I each spend 2 hours plus with him we run out of subjects. We bring the Los Angeles Times each day; he also gets Time and St. Anthony's Messenger each week. There are also a collection of books in the top drawer next to his bed. If you see him feel free to also read to him.
March 25, 2023 I'm afraid this is starting to look like the movie Ground Hog's Day. This time, however, has given me the chance to learn more about his life. This is generally well known but when he was growing up in Los Angeles they lived next door to his Uncle Paul, Aunt Anna and cousin Bob (who was 7 months older than Al). Fr. Ford was the pastor of their church and told Al and Bob's fathers that they should go to Loyola Marymount Jesuit High School. Neither parents could afford the $10 per month tuition so Fr. Ford made them a deal. If Al and Bob spent all day Saturday cleaning the church the parish would pay their tuition. In many ways this sent both of them on the path to careers that gave them a much higher standard of living. Al is not a detail guy and often forgets names and places but he remembers every detail of this event. It's nice to hear about the stories that made him who he is.
March 22, 2023 Unfortunately we appear to be in this for the long haul. Al is clearly never going to get out of bed and he's ready for the Lord to take him. Today he was able to watch the school mass on my laptop and received Communion not long after. He wasn't able to play bridge as one of the guys has the flu and another had a conflict. Several people visit him and so many are praying that God must be getting tired of hearing name. But there's no way around the fact that he spends hours every day staring at the ceiling. He's never been much of a TV watcher he can only read a few lines before forgetting what he's read. He does well when we read the newspaper or religious literature, mostly because we can talk with him about it afterward. But he continues to eat and he's being well cared for and could be with us for a while. Hospice admission requires a diagnosis of six months or less but it looks (at least to me) that there's a good chance he'll still be here in August. We'll see. In the meantime we continue to do our best to give him his best quality of life. And he appreciates the visits and the prayers.
March 19, 2023 Another day, another day in bed. We're beginning to look at the effects of being bedbound long term. Simply put parts of the human body just aren't built to be in contact with bedding all the time. The nursing home changed Al to a low air loss mattress; this means that instead of bedsprings the mattress if filled with air that keeps moving by a pump under the bed. In the past few days we've noticed some skin breakdown on two of his toes and his left heel. The staff is on top of things but the best thing for those areas is air and he likes to have blankets over his feet. So we're providing education also. The good news is that they are not causing him much pain. If you're reading this an panicking, don't; this type of thing only gets bad if it's ignored for weeks or months and it only happens in terrible nursing homes, not this one.
March 16, 2023 My apologies for the lack of updates. Truthfully not much has changed. Last week I noticed that he changed from getting a shower to getting a bedbath and that continues. His energy level continues to decline. On Wednesdays he normally plays bridge but last week he was too weak; this week one of his friends was unable to come and they didn't play at all. This morning I was there when breakfast came and he asked me to feed him his oatmeal. I don't know if this will continue but I did notice this change. He's getting used to having the hospice team visit though I'm not certain he understands the relationship between the hospice staff and the nursing home staff; in fairness I used to have to explain this to many of my patients when I was working. He's now asking me to pray that his passing will be soon. This isn't uncommon as feeling useless is pretty common. That said it's hard to hear. My hope now is that his life will continue to be an inspiration to those who see him. I do know he's much beloved among the staff at the nursing home and this gives all of us joy.
March 12, 2023 With my experience with hospice I assumed Al knew how it worked, but on Friday the social worker came and he declined the visit because he didn't want the extra expense of hospice. I had to explain that hospice is paid 100% through Medicare Part A. Going on hospice caused some activity but as often happens it's settling in to "ordinary time." That's normally good news but here its leading to more boredom. He does get a fair number of visitors but there's also downtime. As I've said he was never one to watch much TV and he's not really interested in reading. He does like to be read to, but again that depends on visits. Of course this would be worse if we brought him home. One nice aspect of his placement is that it's a place that welcomes visitors and friends and family feel welcome to visit when they can. If he were home I suspect he would have fewer visitors only because people often see visiting someone's home as an imposition. Everyday one of us brings him the current day's Los Angeles Times; if you see him feel free to read to him.
March 9, 2023 Busy day for Al. He got a bedbath instead of a shower; I don't know if Al requested it because of weakness or if it was offered to him. If he declined a shower this will be another sign of decline. In addition to his usual visitors he met with his hospice social worker and chaplain (he met his hospice nurse yesterday). His social worker will also have a music therapy person come by. He is certainly appropriate for hospice the friends and family members I have spoken with support this decision.
March 7, 2023 It's been a long day for everyone. Last night I got a call from the nursing home that Al was coughing and was having trouble sleeping; I was asked if they wanted him taken to the emergency room. I declined because that would hardly help him sleep and the cough could be treated where he is. I was there from about 1:30AM to 3:00AM when he was sleeping soundly. Today we decided that it was time to bring in hospice care. This would have given us another tool last night: have a hospice nurse come in to treat him. This doesn't mean he's down to a matter of hours: that's a common misconception about hospice. It also won't shorten his life, it just gives us more tools in keeping him comfortable. Finally, it doesn't restrict his visitors. We're still encouraging people to come see him. Tomorrow we hope to stream daily mass from his church and he will play bridge at 10AM. Thank you in advance for your prayers.
March 5, 2023 On the other hand… Today showed that Al is declining. On Sundays he FaceTimes his friend Doug in Panama and it was hard today. As I expected Al was asleep when I arrived but it was hard for him to wake up to talk to Doug. His voice was so week that it was hard for Doug to understand him. He's sleeping more and getting more vocal about wanting this to be over. He's clearly in his last chapter but it's hard to know how long this chapter will last. The good news is that he continues to be pain free, he's in a safe place and he continues to enjoy visitors. And again we're both grateful for the sacramental support he gets from his church.
March 3, 2023 All in all it's been a fairly good week for Al. On Wednesday we were able to watch daily mass before his bridge game. It may not sound like much but it meant a great deal to him. Frankly he's likely going to be essentially bedbound but he is talking about how boring it is there. The staff was able to get him dressed and in his wheelchair for the bridge game but after less than an hour he was so tired he asked to be taken back to his room. We still read to him and that helps him stay in touch with the outside world. The staff is good to him, and it helps that he is pleasant to them and grateful for his care. Keep those visits coming if you can!
February 28, 2023 Al is settling in to the change in his level of care now. Honestly I think he's just as happy to not have physical or occupational therapy as it used to tire him out. Tomorrow he'll get back to the weekly bridge game and I know he's looking forward to that. Before his fall he used to attend daily mass at his church on Wednesdays because that was the day the Catholic school children would attend. They also livestreams the mass; tomorrow morning I'll get him set up so he can watch the mass. He's not getting any stronger but all in all he's comfortable. We also got word from his nephew in Hawaii who wants to see him and will be here this weekend.
February 26, 2023 I think it's sinking in with Al that he's not going to get stronger and that the rest of his life is going to be a decline. He's been saying off and on for a while that he doesn't understand why God hasn't come for him but this weekend he's been more vocal that he wants to end this. Tomorrow I'm planning to go to his parish and ask that he receive the anointing of the sick again. He normally plays bridge on Wednesdays but they didn't play last week; a combination of it being Ash Wednesday and the nursing home being under COVID restrictions. It appears that the COVID protocols will expire in the next day or so. I bring him the Los Angeles Times every day and he enjoys it when someone reads him some of the articles. Unfortunately he's not interested in much of the news (and I don't blame him) so we read mostly about the weather and sports. We also have religious reading in his room. His attention span prevents him from reading much of anything and that's a shame as that's always been important to him. Tomorrow is his last day of getting physical and occupational therapy.
February 24, 2023 We were notified that the therapy team believes Al has progressed as far as he is going to and Medicare will stop paying on Tuesday the 28th. This gives him a choice: come back home or stay and pay out of pocket. Ultimately it was decided that he will stay where he is. He is currently bedbound; he can only get out of bed with two people helping him and he's too fatigued to be out of bed longer than about an hour. If we brought him home he'd spend virtually all of his time in his bedroom with a caregiver. But at the facility he'll still be in bed but he'll have more socialization. His bridge group has met at the facility and will continue (once the COVID designation ends). The facility is close enough to his church that he will continue to get visitors from there and he'll continue to get Communion daily. Ironically it's also cheaper for him to stay there than have 24 hour care at home. I can't say anyone is excited about this but staying where he is provides the best socialization and safety for him. He wishes to express his gratitude for all the support he's gotten and encourages people to continue to visit.
February 23, 2023 OK, it's been a few days. I'm thinking that this journal isn't going to be a daily event going forward. In the last few days I've been there while physical and occupational therapy have worked with him. To be honest it takes so much energy for Al to get into his wheelchair he can't do much before he gets so tired he wants to get back into bed. The staff is encouraging, but frankly that's their job. I think he's telling us that he's done. That said his spirits are good and he is as grateful for all he has as much as he has ever been. We've been talking about what he'll do when Medicare stops paying and it looks like he'll stay where he is and pay privately. He's essentially bedbound and I'm afraid that if he came home he'd just be isolated in his room. If he stays where he is there are activities and he will probably get more visitors. I don't promise I'll write tomorrow, only that I'll keep everyone posted.
February 20, 2023 Apologies for missing yesterday but frankly there wasn't much to talk about. Today was a different story. When I arrived they were moving Al's roommate and I learned that the roommate has tested positive for COVID. Fortunately Al has tested negative and they will keep testing him. In the meantime I don't think there are any restrictions on visits but they will likely enforce the mask mandate. We also met with the care team and that was helpful. At some point his progress will plateau and Medicare will stop paying. Then either we bring him home with help or keep him there. I'm not sure when this will be but I'm hoping for as much notice as possible. Keeping up with all this is exhausting for everyone but the good news is that Al is doing well and grateful for all that he has.
February 18, 2023 Good day. Al's niece Ann and husband Dave came down from Yorba Linda to visit and they arrived just after Al received Communion. He always rallies when people visit. He's been asking when we will meet with the staff and it's set for Monday. I suspect that, like the rest of us, he wants some guidance on where he's headed. He is aware that if he remains bedbound it's unlikely we'll be able to bring him home. It's not that he's giving up but if he needs to stay there I think he wants to know as soon as possible. Oftentimes people will suffer an event like his fall and will lose interest in working to regain strength; he's not there but I think he has a keen understanding that there are limits to what he can ask his 104 year old body to do.
February 17, 2023 Today was supposed to be the day we met with the staff. When I arrived I learned it wasn't a family conference but a social on the patio for everyone. I talked with the social worker and we scheduled a meeting for Monday; we'll see if it happens. He wants to begin talking about a discharge plan knowing at some point Al will need to be discharged. That's fine and it make sense but he described it to me in a way that made me think they were ready to discharge him now, even though the communications I'm having with the therapy staff indicates he's still appropriate. Frankly that's my concern: that one day they'll tell me it's time to take him home. At this point I don't think Nancy and I can properly care for him at home, and I'm not certain he will ever get to the point where we can. OK, that's enough for tonight.
February 16, 2023 Another day…another day. In the good news department Al got a shower and shave; he's supposed to get one twice per week but it's been a little spotty. Maybe they knew there is a family conference tomorrow. On the whole we've been pleased by the facility but it's far from perfect. They changed the sheets on his bed and I found the bed remote (that raises and lowers the head and feet) under the fitted sheet. He was pretty tired when I saw him but it was a busy day. I look forward to talking with the staff tomorrow.
February 15, 2023 Today was the return of a tradition: he was able to gather with his bridge group and they had a good time. They normally play for a few hours and break for lunch but it sounds like he got tired after about an hour, but the good thing is that they were able to resume their weekly game. I saw him late afternoon and he was pretty wiped out but happy. I'm looking forward to meeting with the staff on Friday.
February 14, 2023 Happy Valentine's Day. I saw Al this morning and there's not much of a change. On the other hand the staff met and agreed that he continues to get stronger, albeit slowly. At least for now he can keep doing what he's doing. Before his fall he used to play bridge on Wednesday mornings. It looks like the group will get together tomorrow morning at the facility. I was pleased how easy this was to set up and I think the staff is looking forward to it. They've been a good support to each other; they mainly use bridge as a way of getting together. Not only do they not argue, they don't even keep score.
February 13, 2023 Well, it was a quiet start of the week. He had a roommate for a few days last week; he got a new one over the weekend. I saw him this afternoon and he told me that they got him up and he was able to take a few steps. The problem is that he still needs help getting up. He's aware that he may not be able to do much going forward and we have some decisions to make. There is a conference on Friday and I'll be able to talk with the staff then. If he is able to come home but can't get out of bed he'll need a great deal more care than before the fall. I guess this is my way of asking for prayers so that he (and we) can find the best path forward. In the meantime he continues to enjoy the sacramental support of his church and visits from friends and family.
February 12, 2023 This was a good day for Al as the Kansas City Chiefs won the Super Bowl. Not sure why he rooted for them over the Eagles, but a victory is a victory. He had a busy morning as he got visits from Deacon Michael at St. James, Al's eldest son Greg and me. We normally FaceTime with his friend Doug in Panama but we couldn't find a time to do it before the game. Hopefully we'll connect with Doug this week. As I was leaving the physical therapist was coming in but I wasn't able to stay and check his progress. Tomorrow starts a new week and I hope it will be a good one.
February 11, 2023 He had a good day today. I don't know if there was a mix up at the parish but he received Communion twice today and was thrilled with that. I brought him some clothes and I think he'll enjoy wearing more than a hospital gown. The occupational therapist brought in a riser for the toilet in the hopes that he can be free of wearing an adult brief. That will be nice. In other news, for years he's been playing bridge with some friends. Today one of them came to see him and we're making plans for them to come to Torrey Pines and play there. That should boost his spirits as much as anything.
February 10, 2023 I saw Al this afternoon. From what I understand they got him in his wheelchair for breakfast and that went well. When Nancy was with him at noon she hoped he could get in his wheelchair for lunch but he was just too tired. He was pretty sleepy when I left. The therapy team suggested that I bring some clothes so they can work with him on dressing himself and I'll do that tomorrow. He still enjoys getting visitors and he's very pleased that his church comes everyday with Communion.
February 9, 2023 For the first time since he's been here he didn't get Communion today. Alas, the Communion Minister assigned for today wasn't feeling well and didn't want to get him sick too; our thanks for that. There hasn't been much change since yesterday but really for the first time Al spoke about the possibility that he'll never get strong enough to walk again. It was hard to hear him say that but I can't argue with him. If he were to come home now he'd likely need 24 hour hired help. On the other hand if he chooses to stay there it would continue to be isolating for him. He does get visitors and is grateful for everyone but it's just not the same. For the time being I continue to communicate with the therapy staff about how he is improving, even if it's a little at a time.
February 8, 2023 Well it was nice while it lasted. Al has been in a 2 bed room since he arrived at Torrey Pines but there was nobody else in the room. Last night he got a roommate. He's actually a nice guy and I was able to connect him to the wifi network. But frankly we've been using the spare bed to put stuff on and now there is a person there. Anyway, I've been speaking with the principal of the Catholic school Al supports. A few years ago he provided the seed money for the Deacon Al Graff Scholarship Fund (in honor of his 102nd birthday). In the last month the students at the school have raised $2420 for the fund. We had hoped Al would be at mass to accept the check but that was before he broke his hip. Each Wednesday the school children attend the 8:15AM mass where they presented the check; fortunately they livestream the mass and we were able to tune in. Al was thrilled and it was nice to see. Hopefully he'll able to get to mass soon.
February 7, 2023 We're now into our second month since Al's fall. In the good news department he and I spoke with the doctor who repaired his hip. The doctor reviewed an X ray from last week and is pleased by the healing and gave the order to have the staples removed (they use staples instead of stitches now). From the perspective the orthopedist there's no reason Al can't go back to walking with a walker. Of course that's not the only part of the story; we can never forget that he's 104 years old. He continues to get up every day but it still takes two people to get him out of bed. That said he continues to improve and as long as the therapy team can measure progress Medicare will keep approving his stay. We can only hope and pray he continues to progress.
February 6, 2023 When I started this blog I had hopes of an entry each day but I suspected it wouldn't last. Truth be told, I didn't write anything yesterday because not much happened. Nancy and I saw him around noon and he looked good but frankly there wasn't anything to report. Today we both saw him again. He has a cough, for which he's been prescribed cough medicine. In a nursing home any cough causes some concern because sometimes it turns into pneumonia. The good news is that the oxygen in his blood is still high enough and we're not that worried about his lungs. Hopefully the cough medication will take care of things. I didn't get a sense whether this will push his therapy back, but hopefully not. More next time.
February 4, 2023 We're back to ordinary time. Today he was still talking about how touched he was that all his children saw him. The therapy staff continues to encourage him to spend more and more time out of bed and in a wheelchair. Unfortunately he also gets tired and wants to get back into bed. Once in his chair we often wheel him around the unit. We hope that as he continues to get stronger we can transfer him from wheelchair to car and take him on a field trip. Stay tuned.
February 3, 2023 I think this is the day all the planets lined up. Again today he received Communion and did well with his therapies. The best part, however, is that all five of his children (and his three children in law) all visited him today. He's more willing to spend more time out of bed and I suspect that as he gets stronger and stronger that willingness will increase. Maybe it's that physical, occupational and speech therapy are like Dante's Purgatorio: as he climbed the stairs he found the first few the steepest. But the more he climbed the easier the steps got. The more he did, the easier it gets to see that this will work. Alas, we are going into the weekend when the therapy staff isn't around. Hopefully he'll be more willing to let himself be taken around the nursing home.
February 2, 2023 Happy Groundhog Day. I'm guessing that's part of what Al is feeling these days. When I arrived his Eucharistic Minister for the day was there. She told me that the parish is keeping a signup list and that's good to hear. I guess he's reaping the benefits of being so generous to so many people at St. James and St. Leo's. At the time he was in the activity room doing wheelchair exercises with other residents. That was good to see. When he was done he asked to get back into bed but he'd been up since 9AM (3 hours). He needed help to stand up but I was impressed with how much he was able to help. As always, please visit if you can. He'd be much appreciative.
February 1, 2023 This was a good day overall. I got to the nursing home early afternoon and learned that two Eucharistic Ministers were by. I also learned from the staff that Al had breakfast in a chair. It's been a challenge getting him out of bed as he complains of being tired. Also they finally removed the staples from the back of his head (it's almost hard to remember but the fall that broke his hip also caused the back of his head to hit the wall and he needed the gash to be closed). He told me he was tired but I was able to convince him to spend some time in the wheelchair and I took him around the unit. It was a little chilly to go outside but I'll bring a blanket next time. He seems to be tracking conversations better and I think that may be the result of more activity. The staff says they can tell he's more able to assist in transferring from bed to wheelchair and back. His progress doesn't need to be much but it does need to happen and I feel better now that it is. He also looks much better after his shave yesterday.
January 31, 2023 I arrived early this morning to find that he did not receive a shower or a shave yesterday. I hate to say this but in most facilities this is par for the course. The good news is that I was visible enough that he did get both and he's once again among the clean shaven. And once again he received Communion; it appears the word has gone out at the church and there is a small competition to see who can come. In all seriousness he often comments on how much he values it. I've said before that he enjoys visitors and at one time he had 5 of us there. He did indeed go for some physical therapy but again, he's pretty weak. We try to encourage him but as soon as we get him in a wheelchair he says he's tired and wants to go back to bed. I'm not sure there's much more that we can do except keep encouraging him. Tomorrow is another day and we'll see where he is.
January 30, 2023 We're back to a weekday schedule and today was a mixed bag. Nancy was there this morning and saw that another person from St. James was by for Communion for Al. It appears the church is doing what it can to bring him Communion every day. That's the kind of sacramental support that makes me feel good to be Catholic. Unfortunately the day went downhill from there. In his 104 years Al has always been clean shaven. When he came to Torrey Pines I attempted to shave him with an electric razor but his beard was too thick for that. Hopefully I'll be able to be persistent enough to get this done. Also I chose Torrey Pines in the hopes that the rehab staff would work hard to bring Al back as far as he could come. The staff is nice enough but today I felt they were just going through the motions. It was clear that Al couldn't hear the physical therapist and even after telling her several times she didn't speak more loudly. I ended up having to give him the instructions. He's still pretty weak but I'm not sure he's going to progress much beyond where he is unless he's able to communicate with the staff there. Tomorrow the therapy staff meets for their weekly evaluation and I hope to meet with them after they meet. My concern is that he won't progress because he's having a hard time hearing them and once he stops progressing they will have to discharge him. Stay tuned.
January 29, 2023 Happy Sunday. I saw Al this morning and he was tired but we were able to have a good conversation. He recognizes that this will be a long and tough road back and he's open to whatever happens. His faith has always been central to him and perhaps this is part of the reason he's made it to 104. He told me that if God came for him tonight he'd be happy to go but if God wants him to stay longer he's OK with that too. While I was there the Eucharistic Minister (Amy) came from St. James and brought him Communion. He's always had a strong devotion to Catholic education and he started a scholarship fund at St. James Academy. We had hoped he would be able to attend mass on his birthday so the current students could thank him but obviously that didn't happen. We're hoping that we can livestream the 8:15 daily mass on Wednesday, February 8th. Finally, he had a good afternoon watching football. Tomorrow starts another week of rehab.
January 28, 2023 As of today he has been at the rehab facility for two weeks. Weekends are hard to evaluate progress because the therapy staff isn't around and the remaining staff is busy ensuring he is clean and fed. I saw him first thing this morning. He was tired but was able to track our conversation and appeared more aware than last evening. Nancy saw him at noontime; his appetite wasn't good but the staff said he ate more at breakfast. As far as I know he spent the whole day in his bed. I hope soon that he'll be strong enough that I can get him back and forth from bed to wheelchair. Other than his trip to hospital he's only seen his room and the therapy room. At least there will be professional football tomorrow.
January 27, 2023 More roller coaster. I saw Al twice today: noontime and after dinner. He is scheduled for PT/OT/ST five days per week but I wasn't able to find out how he did. He's never been a detail person and he can't always keep track of who visited him and what they did. In any case he was really tired at noon. He was in a wheelchair and told me he had been there for a while and wanted to go back to bed. But when I spoke to the staff they said they had just put him in the wheelchair and hoped he would stay longer. They put him back in bed and cleaned him up and said they would try to get him back sitting up after lunch but I'm not sure if they ever did. Nancy and I saw him again after dinner and he was in bed asleep. He would wake up and have simple conversations, and remembered I had been there earlier, but that was about it. I hope he's tired because of the therapy. Unfortunately we're going into the weekend and I don't think they do much on the weekends. Earlier in the week I was impressed at how much progress he was making but now I'm not so sure. But it's a marathon, not a sprint. We'll see how the next few days go.
January 26, 2023 Another day of hard work. I saw Al early afternoon shortly after he finished lunch. He was in his wheelchair and said he had been out of bed for a few hours and asked to be put back in bed. Later we met with his care team. He sees a physical therapist, occupational therapist and speech therapist five days per week (the speech therapist is mostly concerned with his swallowing). The goal is to get him back to the independence he had before the fall but that may not happen. Medicare will continue to pay for this as long as he keeps improving. Once he levels off they will have to discharge him but I don't see that happening anytime soon. He continues to get visits and always enjoys them. As I said yesterday I think there's a direct link between his visitors, his mood, and his willingness to work at getting stronger.
January 25, 2023 It's been a long day. This morning about 2:30AM I got a call that Al was experiencing urinary retention from his catheter. They weren't able to replace it there and he needed to go to the hospital. The good news is that they were able to replace it and return him by about 8:00AM. He is also making good progress in his recovery. I visited him around 3:00PM and spoke with the occupational therapist. He was able to walk a few steps with full assist but the big news is that they were able to transfer him (again with assistance) into a wheelchair and he stayed in the wheelchair for 2 1/2 hours. That may not seem like much but it is. It means that he is getting stronger, particularly the last few days. People who do well in rehab do so in large part because they want to but oftentimes people just give up. He has a long way to go but these past few days have been encouraging. Of course when I saw him he was so tired it was even hard for him to talk but it was a well deserved rest. Tomorrow we meet with the staff for a family conference. I expect have more information then. And again, my deepest gratitude to everyone for their prayers and visits.
January 24, 2023 I think we're all starting to relax a little. Yesterday I talked about how he was able to transfer with help from the bed to the wheelchair and stay there for 20 minutes. Today I understand he was able to sit in the wheelchair for 2 hours. Honestly I think he needed the confidence to know that he won't fall again (thanks to the excellent staff at Torrey Pines). He's also getting regular visitors and that always brightens his day; I suspect it also gives him the energy to work at his rehabilitation. Again I encourage visits. They need not be long: 15 or 20 minutes makes a big difference. We meet with the nursing home staff in a few days and should know more than. My thanks to everyone to comes.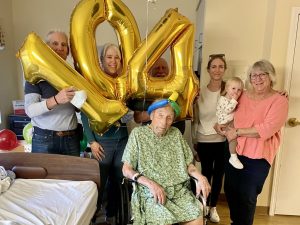 January 23, 2023 Happy Birthday Al! Today was a good day on several fronts. First, he turned 104 today and all of his children were able to visit. Second, he received Communion today. I spoke with the folk at his church, St. James in Solana Beach, yesterday and they will ensure he receives regular Communion. Finally, and most importantly, several of us were present when the physical therapist came by. With her encouragement he was able to transfer (with help) from bed to a wheelchair. He tired easily and could only sit in the wheelchair for about 20 minutes but that's real progress.
January 22, 2023 Again, it's a weekend so not much happened in the world of rehab. Tomorrow's another day though. Speaking of tomorrow, he will turn 104 (yes, you read that right). Unfortunately we're not able to have the birthday we had hoped, but that's how it goes. Al's best friend Doug lives in Panama and I'm able to connect them every Sunday by FaceTime and today I brought in a laptop so they could talk. Al was pretty tired but they had a good discussion. Before his fall I normally took Al to church at St. James in Solana Beach and today I went alone to spread the word about how he is doing. Yesterday I complained that it was unnecessarily difficult to bring him Communion each week. The good news is that he'll get Communion tomorrow and he'll be put on the schedule to get it weekly. Finally, he has always been a strong supporter of the Catholic school there (St. James Academy) and has donated to a scholarship fund. In anticipation of his birthday the schoolchildren have been raising money for the scholarships. We had hoped he would be able to attend daily mass on Wednesday to accept the check but that won't work. The school principal and I will figure out what to do.
January 21, 2023 As of today Al has been at the facility for a week. I saw him after lunch. Since it's the weekend there's no therapy so he's been in bed all day. We had a conversation and he recognizes that it's an open question as to whether he'll be able to come home again. I appreciate his realism. In the meantime it's clear that we can't assume he'll get Communion each week. Last week when he was moving in I learned that Communion ministers from the local church (not Al's) have a service each Saturday afternoon and I told them about Al. Today I came when they were there and asked if they had brought Communion to him. The place has wings; Al is in the rehab wing while the service takes place in the assisted living. I found out that they don't bring Communion to the rooms but distribute it only to those who attend the service (!). When I asked how Al, who is bedbound, could receive Communion they told me they weren't allowed in the rehab wing because of COVID. That's frustrating because I'm fairly certain that may have been a rule a year ago but not now. I guess they're just too lazy. In any case tomorrow I'm going to Al's church to ask them to bring him Communion. He's a lifelong Catholic and has been a deacon for nearly 40 years. I think he deserves better than this. OK, thanks for letting me vent.
January 20, 2023 It's now been two weeks since Al broke his hip. He's still at the rehab facility and we're getting into "ordinary time." Nancy and I were with him at lunch time along with one of his friends. It looks like he's getting better at feeding himself. Since his stroke in 2015 he's needed to have his fluids thickened to compensate for his swallowing (lest liquid get into his lungs). There are degrees of thickened fluids and he's been on "nectar thick." I don't think his swallowing was affected by his injury but they've moved him to "honey thick." The facility is pretty good about making sure he is safe. I don't know how he is doing on his physical or occupational therapy (PT and OT) but that's going to be a slow road. Nearly lost in all this is that he will celebrate his 104th birthday on Monday the 23rd. We were hoping for a much larger celebration but we'll have to keep it small. In the meantime we are encouraging people to visit him. The visit doesn't need to be long but he does better with some socialization.
January 19, 2023 Today has been a better day. I saw him in the morning as he was finishing his breakfast. He was sitting on the edge of his bed but wasn't able to support himself. One physical therapist was feeding him while another stood behind him to support him. They got him with help but he didn't want to stand. I suspect he's afraid of falling. The good news is that he had several visitors today, including two of the men from his weekly bridge group. We've also heard from another old friend who hopes to get there soon. I suspect that this kind of socialization will help in his recovery. I sent an email to the diaconate office at the diocese and word went out to his fellow deacons. It's good that word is getting out.
January 18, 2023 Two steps forward, one step back. Yesterday the staff got him up and he was able to take a few steps. Today it sounds like he was still pretty tired from that and they only got him out of bed into a chair for a while. I saw him this afternoon and he was in bed. He said he has some pain in his right hip and I think this surprised him. It was hard because he was lying in bed with the lights down and the TV off. There is a phone in his room but he can't reach it and his hearing loss would make it hard to talk with anyone. Before the fall I was able to take him to church on Wednesday morning and Sunday evening; we met with a friend for lunch on Tuesdays and he played bridge Wednesday mornings (after church). Obviously he isn't able to do any of these activities and he misses the human contact. I'm encouraging his friends to visit, even for short visits. His primary job is to get stronger but I think that would be more effective with more socialization. I'm planning to see him tomorrow morning.
January 17, 2023 Al continues to settle in well at the rehab center. Before his fall he was able to get around with a walker and needed help only with preparing meals and bathing. Since his fall he has been essentially bedbound and has been to stand only with someone on each side of him holding him up. Today the staff was able to get him up and walking a few steps with a walker. He is able to feed himself but needs help with nearly everything else. This should surprise nobody but his spirits are good and he hasn't suffered any cognitive loss. We're piling up reading material for him and he enjoyed watching the NFL playoffs this past weekend.